Active Ingredient

Difenoconazole 250 G L EC

Other Name

Difenoconazole 250g/l EC

CAS Number

119446-68-3

Molecular Formula

C19H17Cl2N3O3

Application

Control varieties of crops disease caused by bacterial infections

Brand Name

POMAIS

Shelf life

2 Years

Purity

250g/l EC

State

Liquid

Label

Customized

Formulations

25%EC, 25%SC

The mixed formulation product

Difenoconazole 150g/l + Propiconazole 150/l EC

Difenoconazole 12.5% SC + Azoxystrobin 25%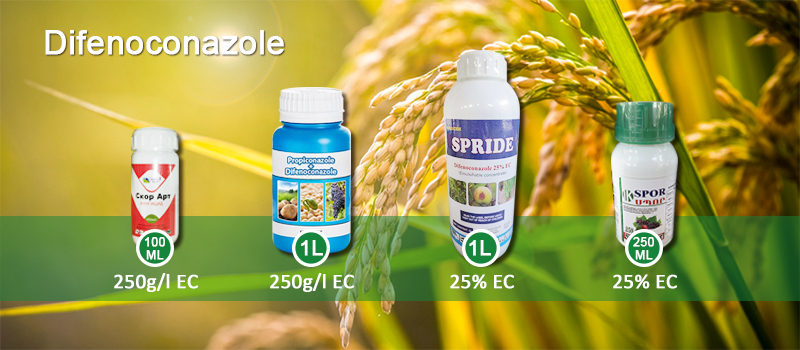 Suitable Crops:
Systemic fungicide with a novel broad-range activity protecting the yield and crop quality by foliar application or seed treatment. Provides long-lasting preventive and curative activity against Ascomycetes, Deuteromycete and Basidiomycetes, including Cercosporidium, Alternaria, Ascochyta, Cercospora. It can used in many ornamental and various vegetable crops. When difenoconazole applied in crops such as barley or wheat, it can be used as a seed treatment against a range of pathogens.
Crop

Barley, wheat, tomato, sugar beet, banana, cereal crops, rice, soybean, horticultural crops and various vegetables, etc.

Fungal diseases 

White rot, Powdery mildew, Brown Blot, Rust, Scab.

Pear scab, apple spot leaf leaf disease, tomato drought blight, watermelon blight, pepper anthracnose, strawberry powdery mildew, grape anthracnose, black pox, citrus scab, etc.

Dosage 

Ornamental and vegetable crops

30 -125g /ha

Wheat and barley

3 -24 g / 100 kg seed

Usage method

Spray
How to place order?
Inquiry--quotation--confirm-transfer deposit--produce--transfer balance--ship out products.
What about the payment terms?
30% in advance, 70% before shipment by T/T.